You're likely asking: How does one even start? Should you grab some rope from the hardware store, find a partner, and just go at it?
Maaaybe not.
Using the wrong tools, blindly hitting someone, or tying them carelessly can lead to some pretty serious injuries—even death.
That's because the kinks you might be interested in that sound pretty basic (like choking and rope bondage) could fall under edgeplay, which is a category that's pretty high-risk as far as most practices go.
So what can you do if you're down for some kinky time but also wanna be smart about it?
You can check out this ultimate guide by CouplesCandy.com—or keep reading as we walk you through some of BDSM's basics, debunk common myths, and share actionable steps so you can start playing safely soon!
What is BDSM anyway?
Newbies to kink generally have several misconceptions about BDSM because of representation in Hollywood and mainstream media.
It's pretty common for people to think it just means being weird or sexual but it's really an umbrella term for several practices, relationship types, and subcultures that observe certain safety guidelines during play.
BDSM is an initialism that can be broken up into:
B/D: Bondage and Discipline
D/s: Dominance and submission
S/M: Sadism and Masochism
Bondage is the practice between consensual partners who enjoy tying, binding, or restraining. You might use rope, metal cuffs, leathers straps  to enjoy its various aspects: the sensations, aesthetics, helplessness, or vulnerability, etc.
Discipline involves behavior modification through rewards and punishments. While stereotypical punishments may be physical in nature, these can also take forms that are less violent like the addition or withholding of certain things that our partners like or dislike.
Dominance & submission pertains to the practices of people who enjoy power exchange. Dominants are individuals who derive pleasure from assuming or wielding control while submissives delight in surrendering it.
Sadism & Masochism refers to the practices of people who enjoy inflicting or receiving pain. Pain takes on many forms which means that your options aren't limited to just displays of physical force.
Pro-tip: If we compared BDSM to eating, it's good to note that BDSM is less like a strictly scheduled meal and more like a buffet. This means you can mix and match the kinks that you and your partner like while leaving out the rest (including sex, if you don't want it!).
How do I start?
Here are 5 actionable steps so you can get started.
1. Discover Your Options
It's hard to get anywhere when you don't know where to begin.
That's where this quiz comes in handy.

BDSMtest.org helps you determine what role you're best suited to based on your inclination towards various kinks and activities.
(It can be a bit long though so don't forget to copy/save your results for future reference!)
It's not foolproof but it's a helpful way to confirm your interests, discover practices and fetishes you've never heard about, or just see how much you've changed over the years.
For those of you who are still looking for partners, the test results can also be a fun way to see if your kinks are a good match!
When you're done, it helps to take note of which keywords you weren't familiar with so you know which things to research on Google, can ask your friends, or can raise questions during a class. 🙂
Take Action: Visit BDSMtest.org today and take the quiz!
2. Remember: It's Not Just About You
Don't get me wrong, BDSM can be practiced on your own but it's pretty likely you'll be exploring your kinks with another person.
That's why:
When we take time to remember that the people we're playing with are always deserving of our respect, putting ourselves in their shoes when making our choices becomes a lot easier and helps prevent serious issues down the line.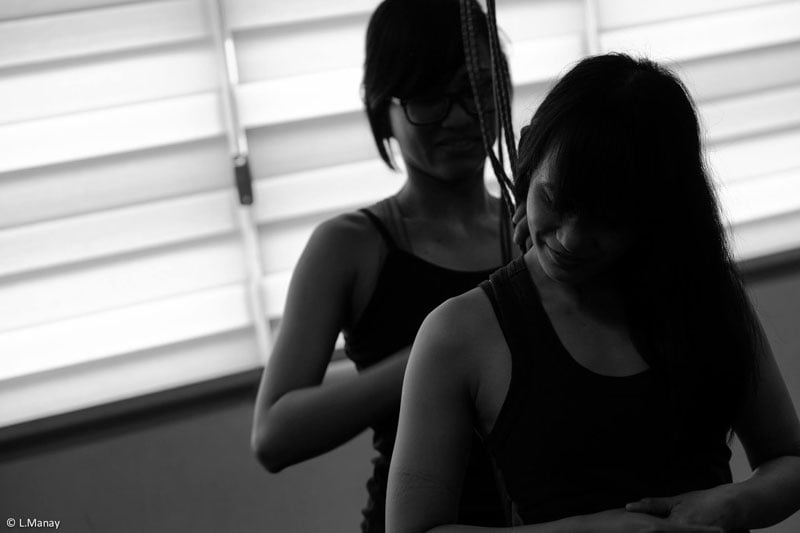 Photo during a barkada/private practice session © Hazymirrors
Take Action: Check out this archive orienting you on the various but essential concepts that make our interactions with others go a lot smoother.
3. Know what You're Getting Into
Want your partner to tie you up? Great! What's the worst that can happen?
It sounds like a funny question to ask but it's imperative that we know the risks involved so that we can (a) be fully informed beforehand and (b) put up measures to mitigate them.
Earlier, we mentioned that bondage counted as a high-risk activity. This doesn't necessarily mean that people should never do it—otherwise there'd be so many things in real life that we'd have to stop doing—like driving a car or extreme sports.
Instead, we recognize the unsafe nature of the activity and take time to really study what's involved so we can make it as safe as we can.
Like most things, BDSM will never be 100% safe but this significant effort to try and make it so is what draws the big red line between our kinky practices and that of careless or predatory abusers.
Take Action: If you're interested in getting into rope bondage, we have just the thing for you!
Get this FREE online course on bondage safety »
It's a course created by Esinem, one of Europe's leading Japanese rope bondage practitioners and it offers a good and thorough look into the risks involved along with concrete steps on how to prevent them.
Do check them out. I've personally been tying for years now but it's still a reference I regularly consult.
There might not be a "One True Path" that is 100% correct for our kinks but that doesn't mean that all paths are equally safe and valid.
Make sure you evaluate everything you come across with a critical mind.
Personally, I find that it helps to remember how learning never really ends—be it for the technical/philosophical sides of what we do, pursuing safety, or how we can maximize each other's pleasure.
For practices like ours that are as much art as they are science, the expanse of knowledge that helps us improve only keeps on growing.
So read as much as you can, share and listen to both fellow newbie and veteran practitioners, BUT remember that not all knowledge is filtered through responsible lenses. Not all insights are empirically based, peer-reviewed, or free from self-serving agendas.
Make sure you evaluate everything you come across with a critical mind.
4. Join the Community
There is a proverb that's allegedly African in origin:
"If you want to go quickly, go alone. If you want to go far, go together."
My stance is this: Whether you've been a kinkster since you were in diapers or you're only discovering it now, there's a big plus to you joining a community of people like you.
Your local kink community can:
help you find a mentor or protector to help you learn
encourage you to grow beyond your current state
share reliable sources for both toys and tools suitable for BDSM
give you emotional support and a sense of belongingness
provide background checks for prospective partners
invite you to munches, workshops, and events
and more…
It might be a little intimidating to join a group where almost everyone knows each other already, but the communities here are very accepting.
We know what it's like to be that newbie who feels alone and there are those of us willing to help you grow beyond it. 🙂
Take Action: You can sign up to Fetlife.com. It's a social networking site for kinksters similar to Facebook and it's where you'll find groups for our various communities.
Shibari.ph hosts in-person events every month in Makati and you're more than welcome to join! Subscribe to our newsletter to receive invites to social events we call a "munch". Munches are informal gatherings held at public spaces where people can meet the local practitioners, ask questions, or just hang out.
If you're looking to learn and start your kink journey, a munch is a good event to attend. New faces are always welcome and we always hold introductions so you won't feel left out. 🙂
5. Sign Up for Classes
While it's true that tutorials are all over the internet, BDSM makes a case similar to the Martial Arts community when it comes to relying on just videos to learn. The quality of education one can receive online versus in person in terms of reliability, thoroughness, and personalization, etc. is unquestionably different.
Yes, it's possible for more experienced practitioners to glean insight/learning from a video online, but that's because they've already built a foundation of core knowledge that allows them to filter good knowledge from bad.
We encourage you to get your feet wet! Build up that familiarity with the subject matter in a fun, chill, and hands-on setting.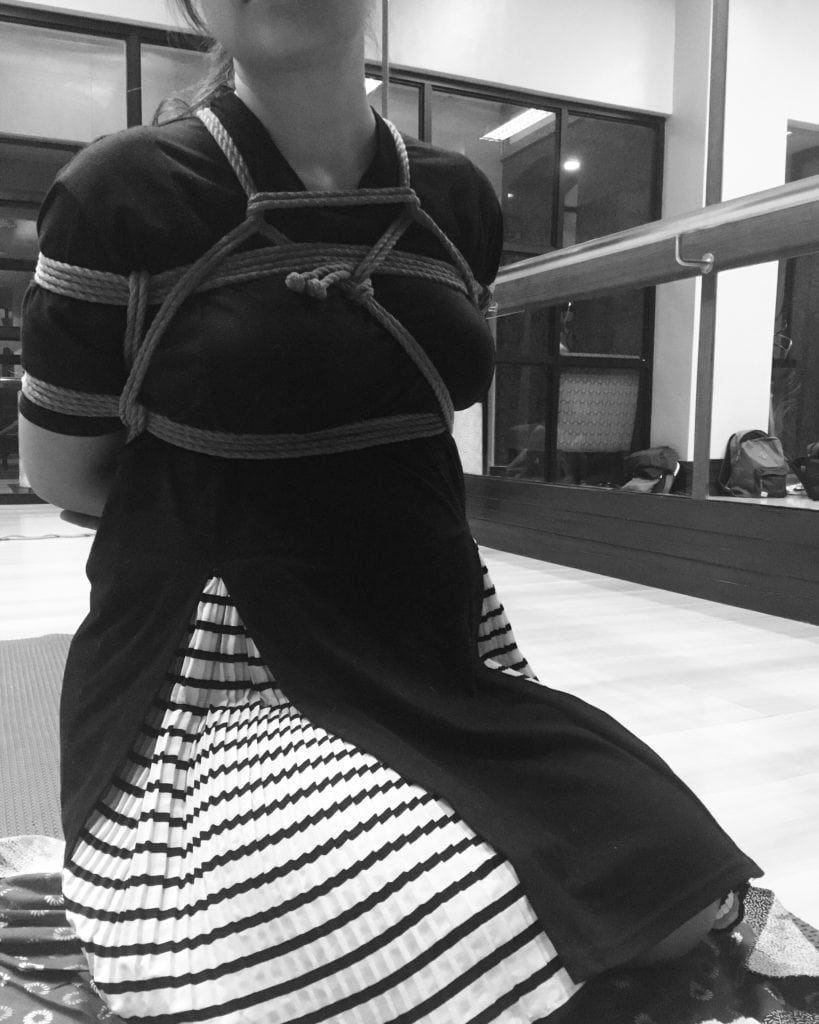 With more and more practitioners coming out of the closet, we are seeing a rise in the availability of educational events like seminars, practice events, and workshops in Metro Manila.
These are great opportunities for you and your partner to get answers to burning questions, pick up important skills, insights, and mindsets in a safer, supportive, and accepting environment—as well as confirm/verify any knowledge you might've bumped into.
Take Action: Join our newsletter to get invited to workshops before we announce to the public so that you'll always have a slot!
Click here to get event invites »
Next Steps
Did you find this helpful? Then you'll love the full course!
Click here to gain free access to "Hitting the Books: Introduction to BDSM"
We'd love it if you shared it with your friends who are keen on starting with BDSM as well.
We're aiming to host more live events soon so you're invited to follow our Facebook page or join our Email Newsletter to stay abreast of upcoming events and new articles like this one.
Join us on our quest to make the Philippines a lot more accepting of kinks, sex, and the realities of our awesome bodies—we'd love it if you tagged along for the ride!
Cheers!
---
(This article is a teaser for Shibari.ph's course "Hitting the Books: Introduction to BDSM".)