SPH: Hi Mango! Thanks for agreeing to our interview! We're so happy you were able to visit us again here in the Philippines.
Can you tell our readers a bit about yourself and how you got started with Shibari/Kinbaku?
Mango: Hi 🙂 It is my pleasure. I am from Europe but have been living in Canada for a while. I use the nickname aguacate (AGKT) but Nawashi Akechi Kanna, my teacher, calls me Mango. That's the name I see myself using more in the future. I have traveled many times to the Philippines for work and leisure and I was very happy to be back for the first time since the beginning of the pandemic.
I discovered shibari a long time ago. During the 1980-1990s, growing up in Europe with an interest for dark and gothic imagery and avant-garde music and culture, I was exposed to some gruesome pictures of Japanese rope torture. Think for instance RE/Search publications, Creation Books and publications of the likes of Adam Parfrey and Charles Neal. But to me, those were the acts criminals committed against innocent people. However, it always stayed in my mind as something of interest beyond the baroque murder and torture imagery.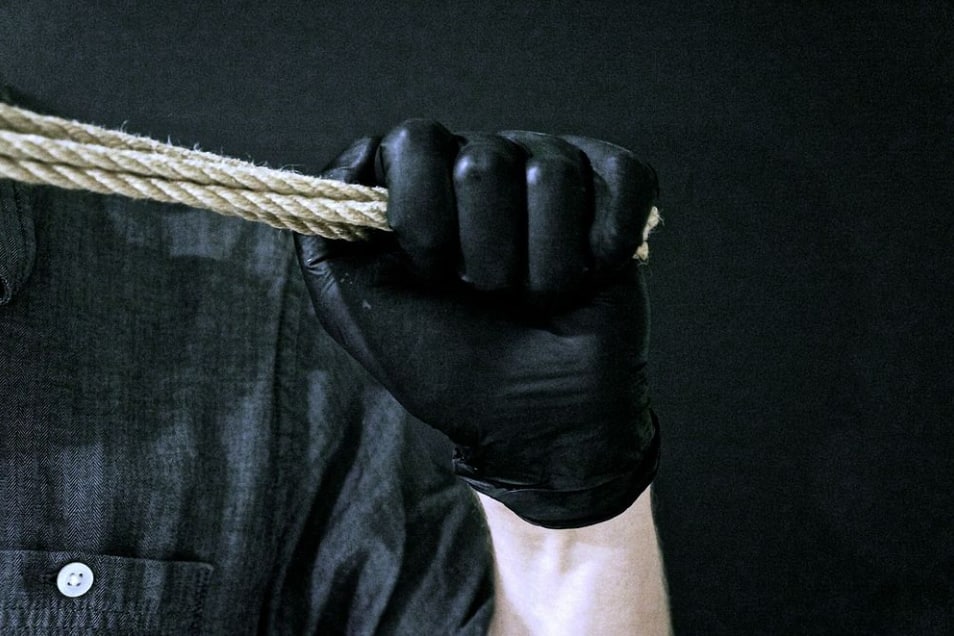 Mango
More than 20 years ago I tried to improvise some shibari with my girlfriend of the time. It did not go as expected. When I showed her the ropes, she laughed at me and thought I was making a joke. To which I said yes "of course it is a joke", and threw the nylon ropes in the closet, where they stayed untouched. After that, I decided that the only real way to learn is from a reputed teacher in a class environment.
It took years until I dated someone who was open to ropes and as importantly, to find a teacher. In 2015, someone started to teach Naka-style ropes in Montréal, a 2,5 hours drive from where I live. It was the real beginning of things put in action. Since then I have been taking countless classes with very respected teachers, in Japan and elsewhere. I discovered Kanna-style only in 2016, the rest is pretty much history.
It's great that you finally found your path! You must have traveled quite a lot and tied in many different countries. What are your favorite discoveries or observations about the communities you've encountered?
Mango: Yes, I have that privilege, I do travel a lot for work, and for pleasure. I like to find people with similar interests. What surprises me everywhere I go, is that it is a much more homogenous practice than one can imagine. Discussions, ethics, and aspirations transcend different cultures. However everywhere you will see communities divided by differences in ethics and wrongly-placed egos. In many places I travel to, accessing quality in-presence education is difficult if possible at all. People cannot pay top dollars or euros to invite reputed teachers, let alone travel abroad for regular classes.
But I keep meeting very motivated people. Perhaps that their shibari is not the safest, perhaps they are missing key concepts and ideas, but I think that at the global level, shibari is growing in quality and in diversity. I am not sure how long this growth will last. It is certain that we saw a jump in interest since the multiple Covid-related lockdowns.
In the meantime, when I travel, I love to chat with people, understanding how they discovered shibari, how they are learning it and how they are practicing it. I am very curious about their experiences and aspirations, the way they organize their communities and their challenges.
I agree. Access to quality instruction is really hard to come by for us right now. But speaking of quality instruction—congratulations on becoming a certified instructor for Kanna-ryu!
Your first workshops here were a success and your Introduction to Kanna-ryu workshop last August in BGC was sold out too! Can you describe what Kanna-ryu is like for those who didn't get to attend?
Mango: Oh, thank you so much. You and I have met a couple of times already in the past years. I was lucky enough to teach in Manila in 2017 already when you invited me. I still stand by the same principles I then taught, even if my practice has evolved and my skills have improved. I have been studying and practicing two distinct semenawa styles, Naka-style and Kanna-style. And early on, I had doubts. I was not sure if it was a good thing or not to continue studying those two different styles at a high level, with Naka Akira and Akechi Kanna themselves.
More recently, Kanna has realized that if she wants to leave an official and endorsed legacy for her sensei, Akechi Denki, she needs to invest in some instructors. In fact, some people close to Akechi Denki recently died, and Kanna has turned 50 years old. So, it was time to think about leaving a durable legacy. I am one of those persons that decided to follow her and commit to teaching Kanna-style and by extension, Akechi-style semenawa.
First and foremost, Akechi-style is an act of love, trust and respect. It is a style in which we show mutual appreciation by showing respect, gaining consent. It is torture, but it is a game. A game in which physical and emotional integrity are the key elements. Second to that is the actual architecture of the ties, which relies on understanding body mechanics, innervation and blood circulation. The construction of the ties and harness are based on the idea of play, not pure aesthetics or pattern reproduction. Slowly and slowly we are adding ropes to create a feeling of total capture. Attacking all the body parts with ropes. Kagura-san, Kanna's life partner and model, sometimes says that once the only thing the model or bottom in ropes can move is their eyes, perhaps you have reached your goal.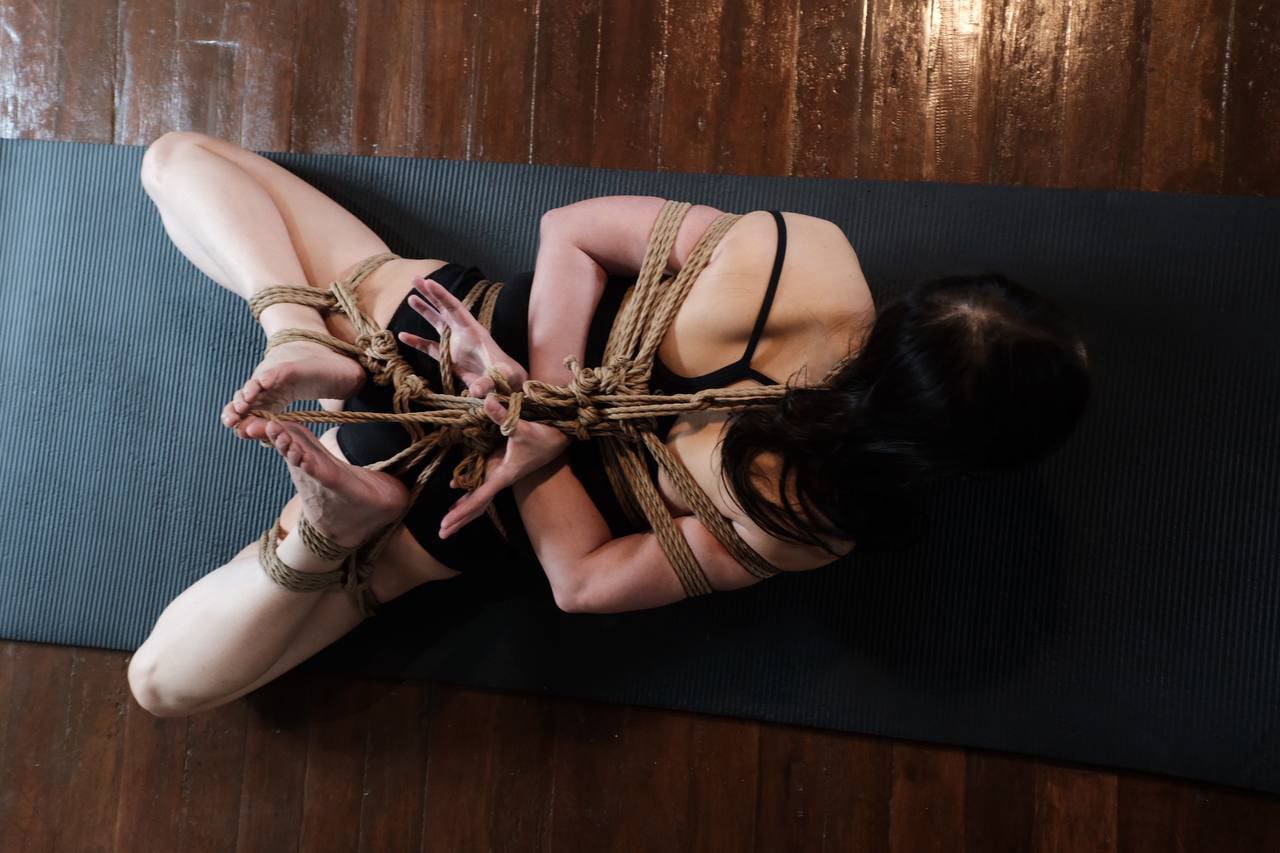 Rope: Mango | Model: Oceane | Photo: Ryceee
That's interesting input from Kagura-san! Since you mentioned Akechi Kanna's sensei, can you tell us more about how Akechi Kanna, Akechi Denki, and the Japanese martial art of Hojōjutsu are connected?
Mango: Let us be clear, current research in the history does not show evidence of continuity between practices like hojōjutsu (also known as torinawajutsu) or some edo-period torture with the modern practice of Japanese erotic rope bondage. Kinbaku or shibari is a modern invention. Influenced by people who researched hojōjutsu, such as Akechi Denki, some schools of shibari have started to experiment with ties and knots that are influenced by hojōjutsu, but without a documented historical continuity. What Akechi-style – and Kanna's by extension – is taking from hojōjutsu are the shapes, some patterns, some knots, the idea of torture and control, etc. Akechi's research has been so influential, that today it is believed by many that hojōjutsu is the ancestor of shibari. From talking with people who knew Akechi Denki, and reading many interviews, it is my understanding that is not true. From what I gather, before Akechi Denki in the 1980s, shibari had little influence from hojōjutsu, it was mostly influenced by the aesthetics of Edo-period torture, which is essentially different than hojōjutsu.
What's a common misconception you've heard about Kanna-ryu? What is it actually like in reality?
Mango: I think that it is a common misconception about Kanna-ryu that it emerges from martial arts. It does not. It is a style that was mostly developed in bars, in photoshoots, adult video shoots, by people who are in the sex industry. Akechi Denki did mostly public SM performances and videos. His style is sadistic and sexual. Kanna herself is a sex worker, a trans person and a former pro-domme working in SM bars, tying clients. Many sex workers, including people in the adult industry, have contributed to what it is now. People who are interested in the style should understand and respect that it is a sexually-charged sadistic practice for perverts that emerged from sex work. If you remove perversion from that style, you are missing the point.
Another point that most people are missing about Kanna's semenawa is that it actually is not a style heavily into suspensions. Kanna usually prefers floorwork. And in most of her classes and workshops, the point of focus is the floor. To illustrate that, for instance, I can share my experience when attending a recent 3-day advance workshop in Europe with Kanna. In three days of education we only learned one suspension. Being advanced in Kanna-style is not measured by your suspension skills. Looking into the air is attractive but Kanna is telling us that we have to look at our partner and our objectives. And as perverts and sadists, the floor is more often than not the best way to achieve that special connection.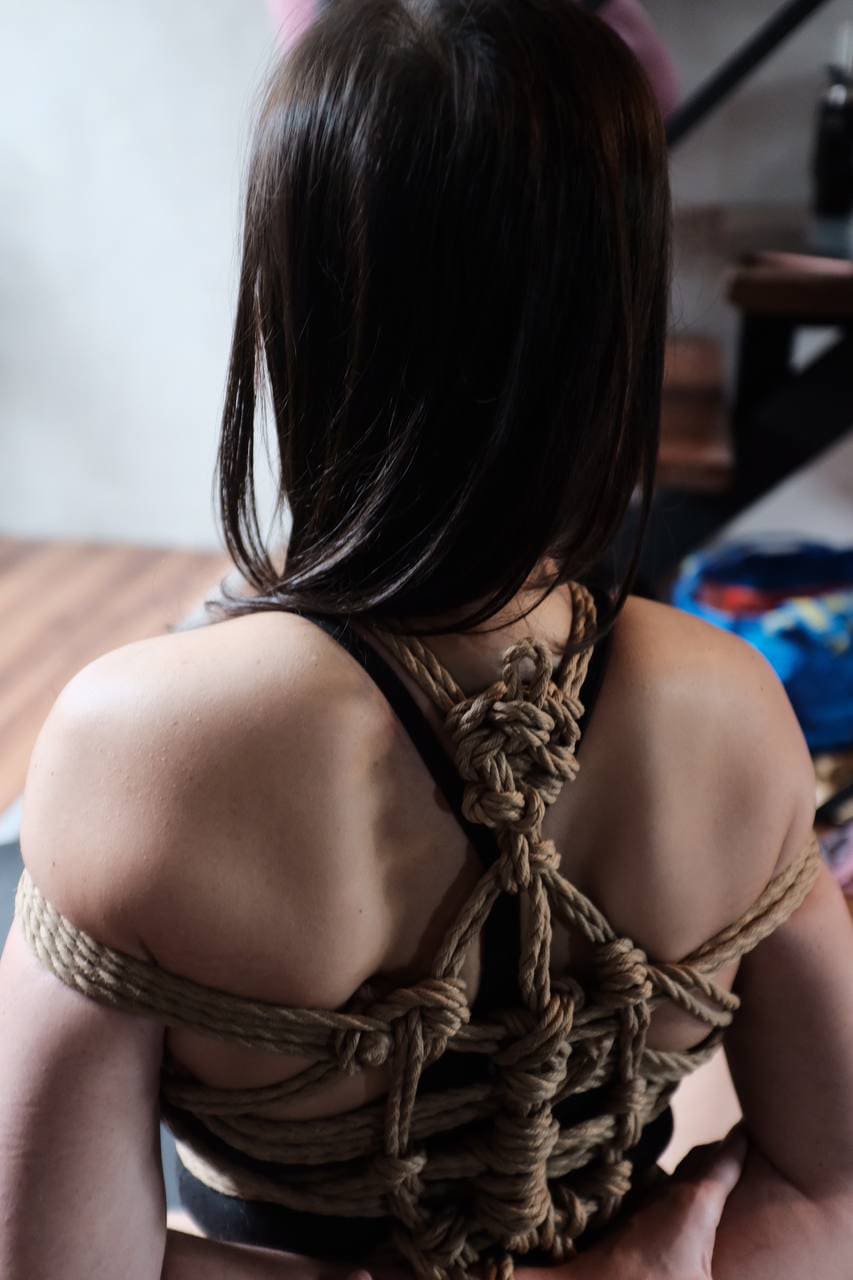 Rope: Mango | Model: Oceane | Photo: Ryceee
What do you like best about Kanna-san's style? What convinced you to study it and eventually pursue a teaching certification?
Mango: What impressed me the most with Kanna-sensei's style is how it is embedded in a larger philosophy. That of respect, safety, adaptation, and continuous learning. Kanna wants her instructors to never rest, never think that we are the best. Because we are not. She is a very demanding and strict teacher. But she is also a very approachable person. And with Kagura-san, her life partner, most of our time together is spent in fun ways, looking for interesting foods, making sexy jokes, teasing each other, learning about our lives and supporting each other. In Kanna-style, there is no place for big ego and pretension. Yes, there are other schools to learn from, but I think that this is a big draw for me in Kanna's style.
Currently, at the global level there are only three active official teachers of the style, plus one studio. So, as you can understand, it is a great honour but also a big responsibility to be an instructor of the style. For me, it is still hard to measure the extent of this commitment. People I talk to often misunderstand what that means. Being an instructor is not an award for past learning and a proof of current skills. Us being official teachers does not mean that we understand everything, it means that Kanna trusts that we have some understanding of her philosophy and structures. But most importantly, for Kanna it means that she is willing to help us grow in the future. It is not that we have great tying skills, it is that we demonstrate that we have the proclivity to be mature emotionally and that we have a history of showing respect to people and to the style. She confides that we will pursue our research and be better skilled, technically and emotionally in the years to come. Kanna chose people that she sees accompanying for decades, rain or shine. And the mistakes we make are now also Kanna's responsibility. My problems in the rope community – what I do or say – are now also Kanna's. So, as you can imagine, it means a lot that she entrusts us with that special connection.
I am now exclusively teaching and learning from the Akechi lineage and will do my best to continue learning and understanding this style. Because I feel that there is still so much I need to learn, and obviously, it's not just about knots. I need to better understand Kanna's goals for the world, such as how people relate to each other through the practice of kink and perversion.
That really reinforces how shibari is like a great journey—with you coming a long way and (fortunately) still having lots left to explore.
What kind of person do you think would benefit the most from studying Kanna-ryu?
Mango: I think that everyone would benefit from studying the style. Its foundations are so strong that they can translate into other styles. It is based on safety and solid designs and understanding why we do things. People say it is less organic than some other styles. Perhaps it is true on the surface, the ties are neat, tension is impeccable and the knots are strategically placed, but the organicity of the style comes from the play and how you improvise based on what you want to achieve.
Yes, it is a style that has a lot of emphasis on symmetry and knots. But the symmetry is mostly a question of safety and efficiency, and each knot is an opportunity to add rope and to feel your partner's body. You can organically construct your ties as you see your partner's reaction to your ropes that are progressively controlling the whole body. If you think that Kanna-style is heavy on patterns and not paying attention to your model or partner, it is because you are doing it without understanding that ropes and harnesses are just a mere excuse to play and be a consensual sadist. Incredible precise ties and tension are a way to express mutual respect, while doing something life threatening.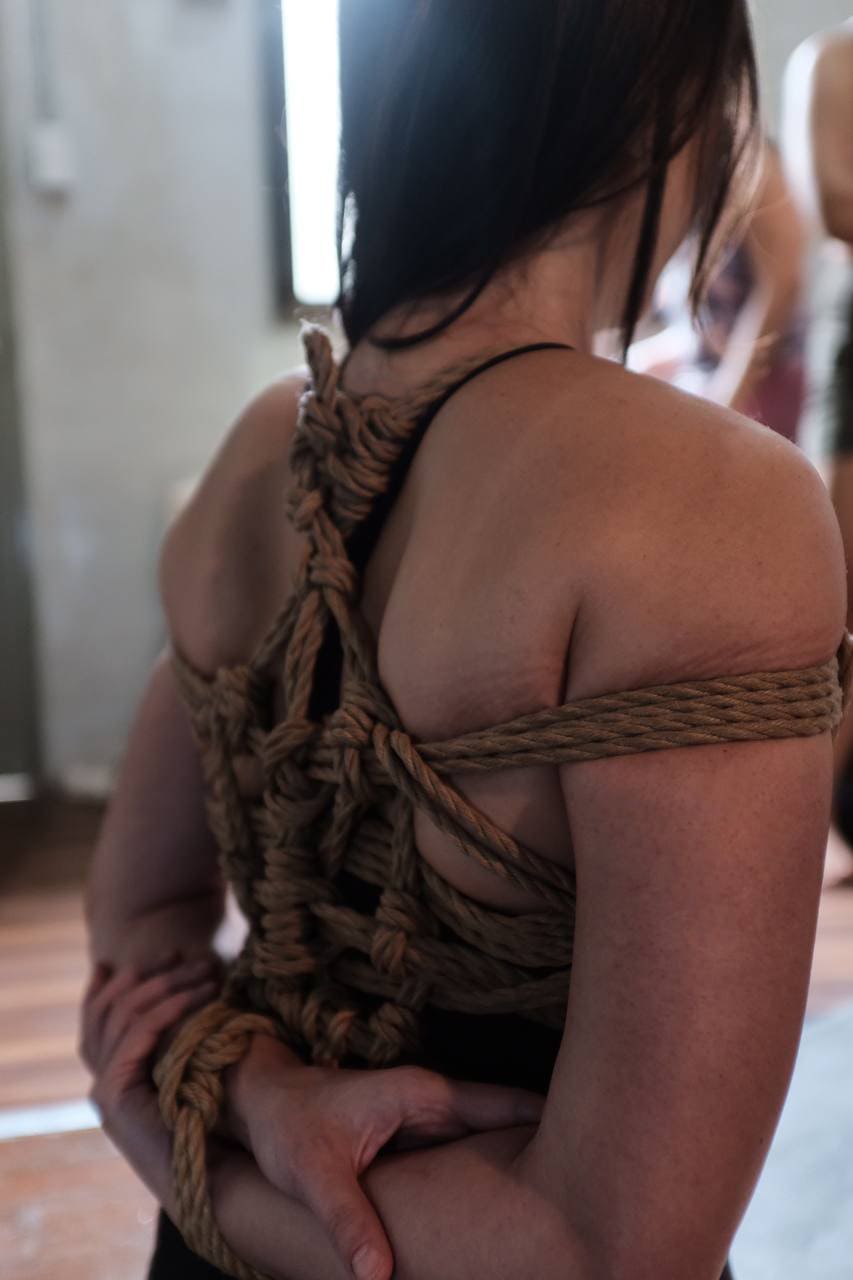 Rope: Mango | Model: Oceane | Photo: Ryceee
What do you think Shibari and Kinbaku will be like in the next five years? What do you hope to see more or less of?
Mango: My teacher, Akechi Kanna, often says that soon, shibari will be like judo, karate and sumo. In no time, there will be better and more interesting shibari practiced outside Japan. That non-Japanese will contribute to further develop shibari in ways that Japan cannot match. Currently the Japanese kinbaku or shibari scene is not at its peak, economically it is struggling. Photoshoots are not paying as much as they used to, videos do not sell well and bars are closing. So, it is fair to think that the future of shibari lies in the global spread of it, and the leaders of tomorrow are not predominantly Japanese anymore.
I think that in the coming years, the rope community will develop to be even more diverse. Teachers and practitioners will gain more visibility outside Japan, Western Europe and North America. We will see more people emerging from unexpected places with a solid understanding of aesthetics and how to construct a scene. One of concerns is with the "Instagramization" of shibari and the growth of online education as a main source of knowledge acquisition. We are already seeing people who have learned only from online sources teaching after a couple of months of unchecked practice. Perhaps that they are getting a lot of online traction from cool posts or some fame in their local community, but I personally would like to see them tie, test their harnesses and tension, and know about their consent practices. The fear I have is that these people would cut corners with safety. I am concerned for generations of bottoms. Because, when you are learning online, purely on an elective curriculum, there is the temptation to jump to "crazy shit" without a proper exploration of the basics and away from knowledge sharing on aspects such as consent. I understand the attractivity of the social network "likes" and how that translates into local social capital. And also I do know I speak from a privileged position where since the beginning of my journey I have had resources to learn first hand, in presence, with some of the most established and respected teachers.
Is there a project, advocacy, or organization of yours that you'd like to promote to our readers and friends?
Mango: There is one cause that I want to advocate, it is bottom education (people-in-ropes). Since we started CORE (Collective for Ottawa rope education) in 2017, our organization has spent time and resources to develop a curriculum of bottom-informed shibari classes. Not only do we have bottom-specific content but also, all of our classes include bottom perspectives. Tops attending our classes sit and listen to our bottom-led discussions. And for our total beginners classes, regardless of how they identify, tops or bottoms, everyone has to learn the basic knots and frictions. Additionally, in our collective, people who identify mostly as people-in-ropes play as much of a leadership role as tops/riggers. Well-informed bottoms are key to better practices and healthier communities. And I am very happy to see the shibari community moving away from top-centered practices.
Agreed—we love and support it! Thanks so much for taking the time to answer our questions, Mango! I know I speak for everyone here when I say that we hope to see you in the Philippines again soon!
You can learn more about Mango/AGKT online by visiting their Linktree or following them on Fetlife and Twitter. If you're in Ottawa, you can click here to learn more about CORE (Collective for Ottawa Rope Education).