No matter how good someone is at bondage, there's no good reason why we shouldn't have safety shears available during a session. It's a critical safety net that, absent from a scene, isn't just reckless—it's unnecessary due to how affordable they are.
I recommend using the kind of scissors that you see below (though the carabiner-style clip is completely optional!). These are the kind used by medical professionals or emergency responders that have a blunt tip to reduce the risk of cutting/injuring your partner during an emergency.
Here are some reminders when getting your shears:
This isn't just for rope tops. Rope bottoms, it's your responsibility to have a pair of shears in case your partner/s don't. It's your life on the line after all. (It's cheaper than a hospital visit too.)
Make sure that the shears you intend to buy are sharp, easy to use, and can comfortably cut the type of rope you intend to use. 
Get at least two so that you'll have a backup for redundancy.
Strictly dedicate those shears to just bondage. Don't use them around the house, for arts and crafts, or anything else. You need that sharp edge for emergencies.
When you're ready to use them, first slip the ropes between the blades and then aim upwards as you cut so that you don't accidentally stab your partner. The tip may be blunt and you might trust your abilities while there's no rush, but never underestimate the effects of an emergency on your focus, calmness, and precision.
Happy tying!
References & Recommendations
Ropt-topia.com: Rope can be replaced, your partners can't, so never engage in bondage without a way to quickly and easily cut your partner/s free.
Here are Wykd Dave's notes on the kinds, costs, and usage of the different available safety cutters.
You can purchase steel medical/surgical safety shears with a blunt end at most Mercury Drugstores (Philippines).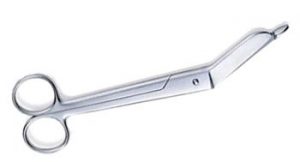 Some EMT/safety shears can come with a carabiner design so you can clip it onto your pants, belt, bag, or other biners, etc.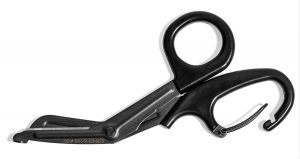 The clip feature is nifty but optional.